Our company offers a wide range of services to meet your project needs.​
High-Precision Design, Construction, and Renovation Services
Due to the extensive experience of our team members, it is rare that an aspect of your project will require bringing in a third party. When it does, we manage all aspects to ensure that your Precision project manager truly is your single point of contact. It's that seamless.
We're homeowners ourselves and we know that it takes determination and attention to detail to make a house into a home. From initial concepts to the final coat of paint we put our skills, experience and commitment to work for you.
From creating a grand master ensuite to remodeling the classic NYC 5x7 foot, we care for your project like it was our own. We excel in ceramic, porcelain, glass tile, curbless showers, mosaics and creating custom vanities. From the plumbing rough-in to final finishes, all tasks are carried out by our own tradesmen and craftsmen.
Zoning, square footage maximization, permits, etc... Home additions aren't as simple as adding a sunroom, we navigate all phases of your project with efficiency. Precision joins your new addition with your original home into a seamless structure.
Custom Kitchens, Cabinetry & Built-ins
Your kitchen is more than just where meals are created, it is the social center of your home. Let us craft the space your family needs. If your home is like mine, storage space is at a premium.
Flooring Installation and Refinishing
Hardwood, reclaimed lumber, standard finishes or hand-rubbed oil finish, new flooring or bringing out the original beauty of your 100-year old hardwood
SOME OF OUR OUTDOOR FIRE PITS AROUND BROOKLYN, NY
OUTDOOR FIRE PITS
We all have memories of roasting marshmallows around a fire & now outdoor fire pits have become one of the most popular backyard additions. A custom backyard fire feature & seating area is the ideal gathering space for all seasons. That's why choosing an outdoor fire feature that fits your needs is important. We at Precision understand the options & are excited to help you design a fire pit that brings you and your family together in the greater Brooklyn, NY today.
FIRE PIT DESIGN
Our ClifRock fire pits include both modular kits & custom fire pits, fireplaces, & pizza ovens. Precision can build your fire pit with various profiles, sizes & shapes to compliment your landscape. The ClifRock composite-GFRC we use is a fire rated, refractory material that can be directly exposed to high temperatures. We have 5 stone profiles & the signature tree stump fire pit. Wondering what type of fuel? We can outfit your custom fire pit with a traditional wood-burning insert, gas burner, or propane burning units. Now you can build your fire pit of any size & style in the Brooklyn, NY today.
SOME OF OUR CUSTOM OUTDOOR KITCHENS & BARS AROUND BROOKLYN, NY
A KITCHEN IN YOUR BACKYARD
What better way to relax & spend time with friends than cooking in your own outdoor kitchen? Precision's backyard kitchens, islands, & bars offer you an affordable alternative to stone masonry while providing that real stone look & feel. The best part is our outdoor kitchens can be installed in hours – not days. So you can begin enjoying your new outdoor living area around Brooklyn, NY right away. No other outdoor living system can build custom outdoor kitchens & bars so quickly, easily, and affordably while adding permanent value to your home.
CUSTOM DESIGN YOUR OWN OUTDOOR KITCHEN
Precision can design your new outdoor kitchen to meet your specific needs. You can have something as simple as a bbq grill & island or as complex as a kitchen with a bar, oven, & sink. The design capabilities are endless. We also offer 5 different stone profiles & dozens of colors to match any rock type you desire. We recommend meeting with our designer's plan & layout your outdoor kitchen as there can be a number of obvious / not so obvious considerations. Call us now so we can help you understand the range of options and configurations possible with the ClifRock system & work to get you a price on your dream outdoor kitchen.
SOME OF OUR BACKYARD WATER FEATURES & PONDS AROUND BROOKLYN, NY
CUSTOM WATER FEATURES TAILORED TO YOU
Enhance your outdoor living space with the soothing sound of a backyard waterfall in the Brooklyn, NY & surrounding areas. Most people think of outdoor grills, decks, or patios for their outdoor living space but a well-designed custom water feature can enhance the ambiance & value of your landscape more than anything. Now you can easily incorporate a water feature into your backyard! From landscape water features to koi ponds, pool waterfalls, & grottoes the ClifRock system installed by Precision is the quickest, most affordable way to transform your backyard into your own private oasis.
BACKYARD WATERFALLS ANY SIZE, ANY WHERE IN BROOKLYN, NY
Precision custom creates your water feature so let your dreams become your reality. Whether you want a large grotto over your hot tub or a waterfall & waterslide into your swimming pool. No backyard is too small in Brooklyn, NY because we can build a large water feature with big boulders or a small waterfall with little rocks. Your backyard water feature can have a big koi pond, small pond, or be pond-less! The limits are endless with the ClifRock system.
Backflow Installation/Testing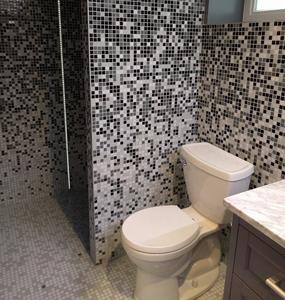 Our professionals will work with you to meet deadlines and coordinate with other, related projects.
We maintain open communication with our clients to keep them up to date on the status of their job and also include them in the decision making process for anything that may come up. We do this to guarantee that the project is completed according to your preferences.
To begin discussing the requirements of your upcoming project with one of our friendly and knowledgeable professionals, contact us today.
Testimonials
Review by Gloria J. in Queens Village, NY
Project: Remodel or Renovate One or More Rooms
Comments: John and his team are GREAT and AMAZING!, especially Clint , Freddie and Pat. John was always available to contact and the work was done to our liking. He worked with my husband and i to make sure we were satisfied, also gave us suggestions to save us money. John thank you for everything. we will use you again in the future for other projects.
Review by Shirley G. in Brooklyn, NY
Project: Remodel a Bathroom
​Comments: John and Pat customer service was exceptional. John explained everything to me in the remodeling of the bathroom. I had the opportunity to also meet with personnel from other companies and none compared with Precision. The time frame set by John was met. The staff of people who did the Job met my satisfaction. I would gladly recommend Precision.
Review by Lisa S. in Saint Albans, NY
Project: Remodel a Basement
Comments: I cannot say enough about my experience with Precision. What started out as perhaps just a bathroom addition in the basement, turned into a full-fledged basement project. Ben and his team did an exceptional job. They came on time, stayed late and cleaned up after themselves. I have hired plenty of contractors and I WILL NOT use anyone else besides Precision. The same crew (which I appreciated) came each day. The project took on many dimensions from the plumbing issues (sewer clearance), old boiler (replaced and added 2 new steam radiators (thank you Sanford!!!)), the new electrical panel (thanks Justin!!!) the moving of basement pillars, the dropped floor, the accent wall (thank you Jeray, Wendy, Francisco and Vitaly!!!), the epoxy floor (thank you Alex!!!), the crazy bathroom tile, new stairs...they did it all. Did I spend more than I intended to...yes, but it was well worth the extra expenses. It did take almost 5 months to complete, but the results are amazing. Again, I've hired many people, but am so happy I found Precision. Many thanks again, especially to Ben (project manager) and Alex, who calmed my fears both day, night and weekends. I plan to hire them again in the next few months for another project.
Review by Michael R. in Brooklyn, NY
Project: Install a Natural Gas or Propane Fired Boiler or Radiator Heating System
Comments: Great work and exceptional customer service. Sanford took the time to explain the job completely and even took the time to explain his competitors option, explaining the advantages and disadvantages. Sanford has followed up with me recently to make sure everything is running properly. He is a true professional and a trustworthy individual. I am very happy I choose Precision
Review by James S. in Oakland Gardens, NY
Project: Install Cabinets
Comments: John was very professional and made sure everything was done properly....they installed new cabinets/opened up my kitchen wall perfectly and installed an over the stove microwave....they also repaired some molding around my front door and had my electric updated for the kitchen....highly recommended...thanks to john pete and pat for the good work and look forward to using them again
Review by Michele S. in Brooklyn, NY
Project: Remodel a Kitchen
Comments: The customer service was excellent from the initial meeting with the representative John. John or Pat checked the progress each day. Any punch list items were taken care of, as they occurred. Everything in the contract was completed. All craftsmen were highly skilled, knew their craft , worked neatly quietly and with utmost care. Kudos to Precision and the entire crew!!
Review by Eugene or Monica T. in East Elmhurst, NY
Project: Install Plumbing in a Remodel or Addition
Comments: Sanford was the technician working on my plumbing project. He was very friendly and clean. He always cleaned up after himself and was very polite. He explained everything he was going to do in great detail and informed me of anything that needed changing. While this project was open I had a terrible partial ceiling collapse in two rooms and he was helpful and got me in touch with roofers (also from Precision). He was understanding when his project had to be put on hold due to the unforeseen circumstances. I'd recommend Sanford and will use him for any other plumbing projects that I need done in my home.
Review by Ellen T. in Brooklyn, NY
Project: New Windows - 6 +
Comments: John and his crew were outstanding. I replaced 13 windows and a door. They were professional, efficient and thorough. Very highly recommend. Customer service is fantastic. Price and value are excellent.
Review by Myra J. in Bronx, NY
Project: Install or Replace a Shower
Comments: Benjamin and Joshua came all the way from Brooklyn to Riverdale in the northwest Bronx, getting here on time and set to work right away. The project took a little longer than expected as there were some structural problems with one of the walls. My building has some rather strict rules about renovations, and Benjamin and Joshua were respectful of the rules. These guys went above and beyond, staying late to clean up, and let me say they were careful of everything in my apartment and when they left in the evening, the debris and trash was taken out. The job they did was first rate, I love my new shower. I recommend Precision without reservation.
Review by L.a. G. in Bronx, NY
Project: Install, Repair or Replace Plumbing or Fixtures
Comments: They were on time and quite professional. I finally don't have to go to another floor to use the shower. A true pleasure to do business with.